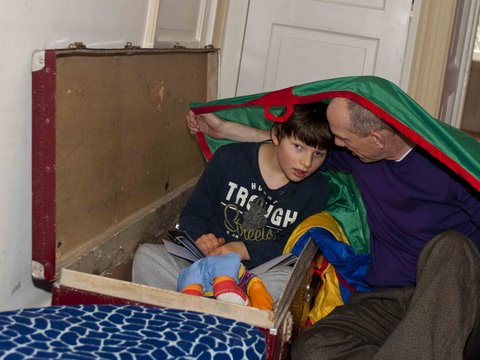 We recently met with members of the Rotary Club Oost. They invited us to join them for their regular lunch time meeting at the Arena Hotel and tell them all about Ark and the children. Kevin, Monika and Ellis van der Weerden did a short presentation for the members and the response was extremely positive.
Ark received a donation from the club of €750 and many indi-vidual members attended our Benefit concert in April. We would like to extend our sincere thanks to Rotary Oost for their hospitality and support and look forward to a continued relation-ship with the club. Since Rotary were one of our first major donors we wanted to identify something specific to buy that would benefit the children directly. All the children we work with have challenges in processing sensory infor-mation and their sensory needs can often overwhelm them and prevent them from learning and enjoying the company of others.
We have therefore commissioned a local craftsman to make a 'sensory squeeze machine' for us. This is a fun piece of apparatus which also provides deep sensory pressure for the children which helps them to relax, focus and concentrate. We're very excited about getting this equipment! Thank you again Rotary Oost for all the wonderful support! And thanks to Ellis for arranging the meeting.