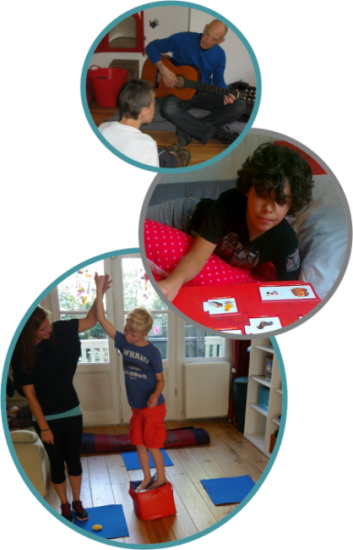 A day at Ark
…
In line with research and good practice guidelines, Ark's daily schedule is based on routine and smooth transitions in a well ordered, and calm environment. Visual cuing and transitional activities are used to help the children to move smoothly from one activity to another. However, creativity, improvisation and spontaneity are also encouraged in the running of the daily programme. Educators may deviate from the schedule in order to follow through naturally occuring interactions or other events on the floor.
The following components build a predictable, recurring daily schedule at Ark:
Morning
Arrival
As children arrive, they are encouraged to complete tasks such as taking off shoes, hanging up their coat and backpack etc. as independently as possible. This is a first opportunity to work on self-help goals. However, we recognise that transitions into a new environment can be challenging and we are primarily focussed on making this transition as smooth and reassuring as possible. Some children may need to explore the space and see who else is around before responding to requests.
Play Time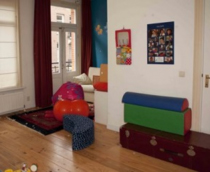 The aim of this session is for children to become well-regulated in order to have a positive start to the day. It is an opportunity for the educator working with the child to observe and assess 'where the child is' today, what mood they are in and where their interests take them. Following the individual child's lead, this session may include sensory-motor activities, relationship-based play, deep pressure massage, or simply quietly reading a book or listening to music.
Circle Time
The morning Circle provides opportunities to work on a variety of emotional, cognitive and social skills in an active group setting. These skills include concepts such as greetings, peer awareness and interaction, music, emotions, sequencing, attention, independence and so forth. Visual schedules are used to preview the planned events of the day.
Snack (10:00)
Mealtimes at Ark are an important part of the day. They provide lots of opportunities for learning a variety of cognitive, social and self help skills. Children are encouraged to prepare, eat and tidy up after meals as independently as possible. Educators also support social exchange during meals to learn about turn-taking, sharing, appropriate behaviour etc.
Following each meal children are encouraged to relax – everyone gathers in the playroom and has a little recess time. There are bean bags and blankets, as well as sensory toys, music, books and items of individual interest. It is also time for toileting and working on personal hygiene programmes.
Tablework
During this session, the Ark educator encourages the child to sit at a table or in a work area. For children who may not be ready for such a set-up we will help them take steps towards a more structured learning environment (e.g. standing at a table or being in a familiar, comforting area). While tablework will include specific cognitive and motor tasks, the main aim of the session is to learn more generally about sequencing and the structure of events. The educator will encourage the child to listen to directions, gather work materials, complete their work in visually clear steps and return materials when they are done.
We put high importance on reasonable demands so children can feel a sense of competency, confidence and self-esteem. All goals are tailored to fit the child's developmental level, their individual learning style and sensory needs. To set these cognitive goals and evaluate them, we use a well recognised and researched assessment tool called ABLLS (Assessment of Basic Language and Learning Skills, Partington, 1998). However, the DIR/Floortime methodology always remains at the core of the interactions.
Floortime Session
The whole day at Ark is underpinned by DIR/Floortime. However, at least one session per day is devoted to a dedicated Floortime session. In these sessions the educator will use proactive child-focused techniques and strategies to elicit interaction, shared attention and purposeful two-way communication. These sessions directly target the main challenges faced by our children – challenges in communicating and relating.
The tool we use to set and evaluate goals for social/emotional development is another proven assessment tool called SCERTS (Social Communication, Emotional Regulation and Transactional Support, Prizant, Wetherby, Rubin and Laurent, 2003)
Lunch (12:15) and Relaxation Time
See 'Snack' above.
Afternoon
Group Activity
Many of our children can find it a great challenge to play with others or even attend to group sessions. The social aspects of these situations can be overwhelming and confusing. At Ark we give children plenty of opportunities to experience such social interactions in a comfortable and facilitated environment. Through group games such as musical, sensory and/or physical games (e.g. dancing, obstacle courses, turn-taking opportunities, playing with sensory material etc.). Educators support the children to build relationships, communicate ideas, work together and experience the joys of having fun with other children.
Other than these focused group games, afternoons at Ark are all about sharing experiences and working together on a number of activities including:
Arts and crafts
Gardening
Community experiences
Games
Darkness and Sensory Time
End of Day Circle Time
At the end of the day the group gathers formally once again. The day can be reviewed and each child gets their own verse of the 'goodby song'. They are then encouraged to put on shoes and coats, gather belongings and prepare for collection.
Personal hygiene, self-help and independence skills are practised in naturally occuring situations throughout the day. The tool used to set and evaluate these goals is AFLS (Assessment of Functional Living Skills, Partington, 2012)
"As soon as he realizes we're on the way to Ark he starts to laugh,
he is so happy to be there." (A parent)